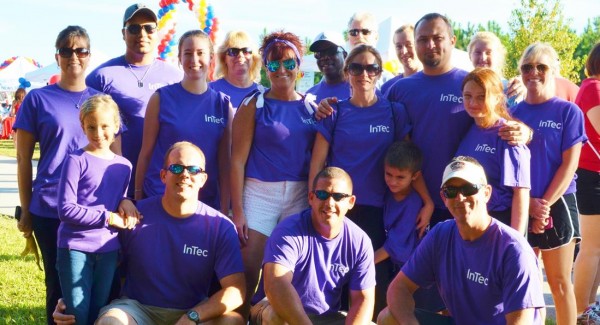 Climate Control team scores big pledges at Heart Walk
Ocala, FL:  One team. One mission. One community…read the purple t-shirts worn by the Climate Control Mechanical Services walkers during the Marion County American Heart Association Heart Walk. Their goal? To generate donations to be used for cardiac research and education initiatives, eventually wiping out heart-related ailments.
Employees representing Climate Control Mechanical Services were all first-time walkers.  "Our company's culture encourages employees to support missions like the Heart Walk either by donating time or treasure.  Many of our employees did both – now that's one team, with one mission, supporting one community initiative!" said Rob Boyer, Vice President of Operations.
"This shows the power of one," said Heart Walk Event Coordinator Staci McDonough. "It just takes the enthusiasm of a single individual to encourage others to support local causes and activities. In this case, it started with a single employee and grew from there."
This year was the largest Heart Walk event in Marion County history. A total 4500 individuals from 66 companies and organizations joined forces to walk the designated three miles of trails in support of heart health.
Heart Walk is part of a nationwide campaign undertaken by the American Heart Association (AHA) to improve heart health through education and physical activity. Their research indicates that less than one percent of the current US population meets the criteria for ideal cardiovascular health. Studies further reveal that heart disease is the number one killer of all Americans, surpassing all forms of cancer combined.
 ###